Skip Navigation
Website Accessibility
OSewpersonal New Procucts and Brands
Hello Quilters
Let's see what's new at O'Sewpersonal!
O'Sewpersonal is excited to keep growing with our customers! Not only have we added Dime Embroidery and Kingstar Metallic thread- we have NOW added Sweet Pea Embroidery Deisngs to our shop.
This company has been an online-only design maker for a long time. Just recently they have reached out to Brick and Mortar Shops to help spread the word of this amazing embroidery line.
If you have not seen the designs they offer please check them out! You can use our special link to shop with O'Sewpersonal every day. these designs will come right to your computer and you can start sewing that day. If you find some products like hardware or other items, they will be shipped to you.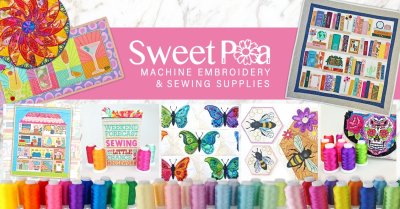 TAKE A LOOK HERE
Sept 30th is only a FEW DAYS AWAY!!
This is the last day to trade in ANY MACHINE and get a heck of a deal on a new Bernina Sewing Machine, Embroidery Machine , Serger or Long Arm. You don't have to trade in a fancy machine to get this deal. Bring in your back up back up back up, or something that has been in a closet for years. On some machines you can get as much as $2500 off our price! No matter what machine you bring,
you will get 25% off MSRP until Sept 30th.
If you missed our LIVE Sale on Monday night,
we featured Janine Babich Embroidery Design Trunk Show. We are placing the order today at 1:00 . If you have time to view the video and order these are great designs to add to your collection. You can also order all the fabric kits and quilts any time. Those are always up on the APP or Facbook to order any time. Here is the link to veiw today.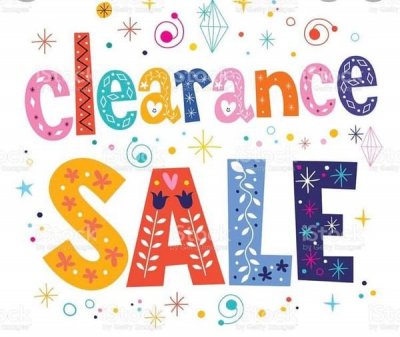 We've added a New feature to the website, a CLEARANCE section. Check back often as we are constantly listing new items that are on final sale: panels, kits, and yardage.

As we expand this section, more items will be shared. You can choose local pickup or shipping. Don't miss out on an opportunity to score some yardage at a great price.
Just a reminder Everyday you can use these links to shop these companies direct but give credit back to OSewpersonal!!! These links can be found on our newsletters and our homepage of our website. Take advantage of the company daily deals but still support your local quilt shop!
Shop All Kimberbell Quilting and Embroidery Downloads and designs
Shop all things Accu Quilt
Shop All OESD Stabilizer, Designs and tools

Sweet Pea
Embroidery Designs

Store Hours:

Tuesday 10-3
Wednesday 10-3
Thursday 10-7
Friday 10-3
Saturday 10-3
Sunday & Monday Closed
O'SEW Live Sale:
Mondays at 7 p.m.! Check us out on our Facebook page and our iOS App or our Android App! We hope to see you there! Share with your quilty friends! You may pick up your purchases at either location, in-store. USA Shipping is always available.

Visit our website: osewpersonal.com
Thanks so much for your continued support of O'Sewpersonal in O'Fallon, MO & Collinsville, IL! We look forward to serving you!
~Kelly & Crew