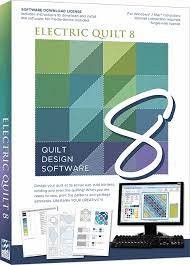 Electric Quilt 8 is excellent software to help you design a quilt using built in quilt layouts, blocks, and fabrics; or you can design your own quilt from scratch! After designing the quilt, you can try out many different color ways using built in fabrics; add your own photos, scans, and images of fabrics from manufacturers; or obtain both free or purchased fabrics from Electric Quilt.com. You can print an image of the quilt, rotary cutting instructions, and fabric requirements. The software has much to offer, but can be overwhelming initially, and this class can help you get started! If you have previously purchased EQ8 but rarely use it, or if you are thinking about buying the program, then this class is for you. Attendees must have their own copy of EQ8 on a laptop for the class.


Main Objectives:
1) Learn about the different menus and icons within the program, including how to navigate through the Quilt, Block, and Image Work Tables.
2) Discover the variety of "Libraries" available within the program and how to use them.
3) Find out how easy it can be to upload fabric stashes, images of fabrics, or additional block designs to the program.
4) Learn how to easily draw your own original blocks and add them to a quilt.
5) Understand how to print your quilt design, block instructions, and fabric requirements.
6) Become familiar with all the resources that are available to help you learn more about the program to enhance your quilting skills!

Things to bring to class:
1) You must have your own copy of EQ8 on a laptop, along with a power cord.
2) Download the EQ8 Quick Start Guide (This will be used in class for designing a quilt. Open the EQ8 Program, go to Learn under the big 8 when the program is opened), and download or print the Quick Start Guide.)
3) Paper and pen
4) Any food or drink you would like for ½ hour lunch

| | |
| --- | --- |
| Skill Level: | Beginner |
| Skill Details: | |
| Instructor: | Kathy Ketchum |