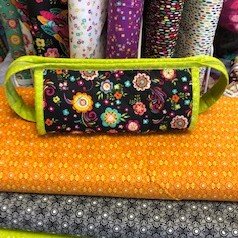 Make this handy zippered bag to keep you sewing tools handy for you sewing area, classes or retreats.

In this class you will learn to create zippered pouches using Wonder Tape, insert zippered pouches inside a larger zippered bag and bind using Wondertape or Roxanne Glue Baste It.


Sewing supplies needed:
· Sewing machine
· The following feet for your machine would be helpful but not required:
o Quarter inch foot – for seams
o Edgestitch foot (In the Ditch foot) – for topstitching
o Zipper foot – for installing the zippers
· Good quality cotton thread to match your fabric choices
· Bobbins for your machine (to match thread)
· 80/12 needles
· Scissors and Rotary Cutter
· Pins/Wonder Clips
· * 1/4" Wonder tape and Roxanne Glue Baste It (both are optional but assist in installing zippers and binding)
· * Temporary marking pen such as a Dritz Heat Erase Marking Pens
· Point turner
· Sew Together Bag pattern by Sew Demented
Bag supplies:
· See pattern. NOTE: longer zippers than those specified on pattern can be used – we will cut them to size in class.
· If you wish, you can make the interior and/or exterior of your bag out of several fabrics. Be sure to cut all pieces in the Cutting Directions.
PREP WORK PRIOR TO CLASS
1. Cut and LABEL all fabric required per the Cutting Directions on page 2 of the pattern. Fusible fleece is needed only if you wish to quilt the outside of the bag.
2. Iron all interfacing and fusible fleece (if used) to the cut fabric prior to class.
| | |
| --- | --- |
| Skill Level: | Intermediate |
| Skill Details: | Intermediate |
| Instructor: | Jan Cantu |